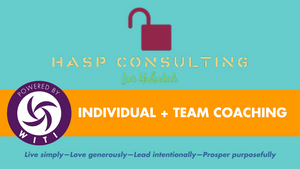 What We Offer 
Individual + Team Coaching
6-12 month packages priced at $7,000-$15,000 

Weekly 60-90 minute calls or virtual meetings 

Key Topics:
New leader development
Trust and safety in the workplace
Real time, on call support for immediate issues 
Role transition support 
Team leadership
Strategic planning
Communication strategies and decision-making protocols
Managing complex teams
Equity initiatives 
Conflict navigation 
Performance management
Talent acquisition  
Competency-based interview architecture to include anti-bias training
Staffing model design and succession planning
Budget mapping and strategic planning 
Included in Individual and Team Coaching Models: 
Access to shared resources following every call (e.g., case studies, articles, posts, books, tools) 

Research-based support for clients based on unique needs, contexts, and scenarios 

Weekly book reviews featuring key leadership and industry trends  

Weekday motivational communication via email or voice memo 

Facilitation of up to 3 team meetings or trainings (Adaptive Schools, Fierce Conversations, Emergenetics, implementation of equity frameworks, student achievement data review, etc.—unlimited support for leaders to design professional development sessions as a part of our coaching work with either on-site or virtual facilitation)
Who We Are
The Hasp team exists to inspire you to live simply, love generously, lead intentionally, and prosper purposefully. The clients we serve are
individual executive-level leaders and senior leadership teams who are seeking to improve professional practice and amplify measurable impact on the stakeholders they serve.
Individual and team coaching clients receive radically differentiated support based specifically on their needs, hopes, goals, and desired outcomes. At Hasp, we believe that every day is an opportunity to refine our professional identities and to demonstrate legacy leadership. Executive coaching—and the limitless support that comes with it—is an exponent to your most essential and sustainable work.
Hasp Consulting Individual + Team Coaching
Regular price
$7,000.00
$0.00
Unit price
per