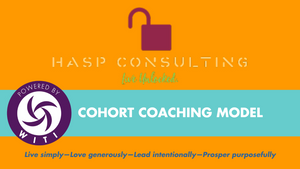 What We Offer
Cohort Coaching Model 
The Lead Unlocked cohorts of participants will meet together with Hasp leaders once each week over the course of the 7-week program. This collaborative model fosters new connections and creates opportunities to refine leadership practices through shared learning. The Lead Unlocked "Foundations of Leadership" cohort that launches in October features the following: 
7-week program with the cost of $2,950 per person

Cohorts limited to a maximum of 25 participants 

Cohort meets virtually once weekly for 60-90 minutes

Program Framework: 
Building Blocks: Organizational Diagnosis 
Empowering Teams: Communication with Congruence and Coherence
Butterfly Effect: The Reverberating Impact of Decisions 
Fierce Conversations: Navigating Conflict with Purpose, Empathy, and Grace
Looking Forward: Talent Acquisition and Performance Management 
Getting Things Done: Personal Mastery + Time Agency
Lead Unlocked: Strategic Implementation Planning 
Participants will have access to 3 individual/small group coaching sessions during the program

Access to weekly recorded training and additional training webinars

Hasp-created e-book titled "Parking Lot Principles" (52 weeks of personal mastery tools) 

Facebook collaboration group to build community in the cohort

Weekly book/article/case study reviews for one year

Daily quotes/inspiration/guiding questions delivered via email for one year 

Ongoing access to curated new content for one year after program has ended

Evergreen access to information shared during the program
Who We Are
The Hasp team exists to inspire you to live simply, love generously, lead intentionally, and prosper purposefully. The clients we serve are

 
individual executive-level leaders and senior leadership teams who are seeking to improve professional practice and amplify measurable impact on the stakeholders they serve.
 

Individual and team coaching clients receive radically differentiated support based specifically on their needs, hopes, goals, and desired outcomes. At Hasp, we believe that every day is an opportunity to refine our professional identities and to demonstrate legacy leadership. Executive coaching—and the limitless support that comes with it—is an exponent to your most essential and sustainable work.
Hasp Consulting Lead Unlocked Cohort Coaching Model
Regular price
$2,500.00
$0.00
Unit price
per